We had a great 3 day weekend. Friday Keller and I headed to Hot Springs to meet our friend Dee and her son Weston. We went to lunch then to the Museum of Discovery. Keller is still a little young to enjoy the museum but he did like walking around and watching the other kids and napping in his stroller.
After the museum we went back to the lake house, the boys to naps and Dee and I just chatted and watched tv. We then headed out to do some shopping. A new Home Goods opened in Hot Springs. Lovpicked on our way to pick up a pizza for dinner both boys had MAJOR melt downs in the car. Both were hungry and tired. It was a glimpse into the further of having two kids:) Saturday we woke up had breakfast and then went swimming. It was the first time i tried to get Keller in the water. The weather wasn't too hot and the water was okay for us but a little cold for him. I think if it was warmer he would have loved it. Instead I sat in a pool float and held him while he slept. I didn't get a picture because I didn't think my phone was safe on the dock with us. But here's a picture of him in his swim suit. It's a 0-3 month but still a little big.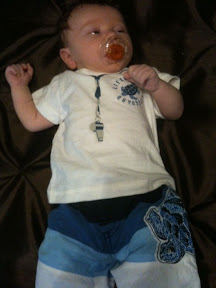 Weston was such a good helper. Can't even begin to think of Keller being this big next year.
While we were in Hot Springs Coby went camping and hiking and came home with a mean case of chiggers. Poor guy is miserable but I think it's getting better.
Saturday was the first Razorback game of the season. It was pretty much a blow out but we listened on the radio and watched some other, more exciting, SEC games on tv (from our bed).
Cheering on those Hogs!
Sunday night we drove back to Hot Springs to have dinner with Cobys parents and grandparents for Papaws birthday.
Bubba enjoying her great-grandson.
Monday was full of a whole lot of nothing! And we loved it!