We've had a pretty good weekend. Friday night we went a returned a few gifts then went to dinner. Saturday Coby got up and went hiking at Pinnacle Mt. And Keller and I slept in. We stayed around the house the rest of the day and got some laundry done. Coby made purple hull peas and corn bread for dinner. Sunday we got up and went to church and Sunday school. Keller did really well and slept the majority of the time. Next week he will be 6 weeks and can go to the nursery. I think we will test it out during church. I don't think it will be a problem. After church we went to lunch with my parents then headed home.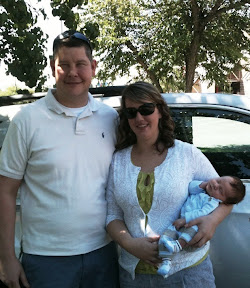 My boys, Coby, Keller, and the dogs took a nap while I went to the grocery store. Coby went to a work function tonight so its just me and little man for the evening. We took a bath, ate dinner and played a little. This is what Kellers hair does after a bath...
I usually brush it out because if I don't it dries like this...
I'm ready for it to get longer and actually curl when it dries instead of just stick up everywhere.
Kids in our area start school tomorrow. I feel so lucky to work in the school district and be able to take maternity leave when school starts. If not I would have had to start back to work next week, instead I have until mid-September to spend with him. We've got a few things on our agenda for next week. Hopefully I can remember to take pictures and blog!